For  two weeks in May, the 7th art world turns its undivided attention to Cannes, coastal resort reknowned worldwide for its film festival, 65 years running and immediately evocative of old world glamour, groundbreaking cinema, red veloured stairs, press conference faux-pas, beach starlets, heady rooftops parties, controversial awards, statements and sit-ins. As is the case for most festivals now, the "peripheral" festival of sorts (Un certain regard, Cinéfondation, Caméra d'Or) holds probably more interest than Cannes' main selection of competitors, and yes, it has become overrun with branding and business. Still, while many festivals have gone corporate and are thus lost to the austere industry, Cannes has retained some of its vintage sheen and since 1946 continues to guard the myths and magic it is made of.
The 2012 awardees :
LONGS MÉTRAGES
Palme d'Or
Amour directed by Michael Haneke
Grand Prix
Reality directed by Matteo Garrone
Prix de la mise en scène
Carlos Reygadas for Post Tenebras Lux
Prix du scénario
Cristian Mungiu for Dupã Dealuri (Au-delà des collines)
Prix d'interprétation féminine
Cristina Flutur in Dupã Dealuri (Au-delà des collines) directed by Cristian Mungiu
Cosmina Stratan in Dupã Dealuri (Au-delà des collines) directed by Cristian Mungiu
Prix d'interprétation masculine
Mads Mikkelsen in Jagten (La Chasse) directed by Thomas Vinterberg
Prix du Jury
The Angels' Share (La Part Des Anges) directed by Ken Loach
COURTS MÉTRAGES
Palme d'Or du court métrage
Sessiz-Be Deng (Silencieux) directed by L. Rezan Yesilbas
To my personal dismay, Jacques Audiard whose magnificent film « De rouille et dos » (helmed by an outstanding Matthias Schoenaerts who inhabits every scene with the kind of fierce magnetism that only  Brando could conjure and Marion Cotillard who delivers here, with careful restraint, her most poignant performance since "La Mome")  I thought was a shoe-in for both the Palme d'Or and Best male performance, lost again to his 2009 competitor Michael Haneke. I'm not sure what greater film Audiard could next direct that would possibly outstand "Un Prophète" and "De rouille et d'os" and finally earn him the Palme that has eluded him:  his directorial career has thus far been an ascending flight from fearless excellence with "Un Prophète" to a small masterpiece with "De rouille et d'os".
That said, in all fairness, I have yet to see "Amour"…
Two Days in New York.
I hated it. I nearly left mid-way through the film. And  frankly, I do say this with some regret considering how much admiration I have for Julie Delpy as an actress, writer and director, and how thoroughly I enjoyed the prequel "Two Days in Paris". However, whereas "Paris" had good taste, sharp dead-pan delivery (Adam Goldberg had much to do with this) and presented a genuinely intelligent reflection on the traumatized post-post-modern battlefield of relationships, and yes, of course delighted in clichés but handled them with measure, "New York" is an overbearing assault of bad taste, over the top caricatures, run-on scenes, and blunt physical comedy. None of it was funny. Some of it was just absurd (I suppose as some kind of statement on the absurd pretenses and pretentions in our lives). All of it was irritating, cringingly so.
And seriously… note to independent directors:  featuring wild card Vincent Gallo will not redeem your movie.
So for what it's worth, I urge you to ignore this unfortunate sequel and instead watch the smart and funny and far superior first film "2 Days in Paris".  TRAILER
Two Days in Paris.
Yes, it is AnnieHallesque. And No, it doesn't stand the comparison. But the film is still completely worth it. Spilling with honesty and self-deprication, it is brutally (but refreshingly) lacking in sentimentality; it's love as the real screwed-up thing. If occasionally self-indulgent, it's endearingly so. You can't help but feel sympathetic toward a first time writer/director (composer/singer?!) whose belly probably aches in the editing room as she wants to keep EVERYTHING in. Also, she's brilliantly chosen her screen partners: first there's Paris, and then Adam Goldberg who steals every scene. His hypochondria, scathing anti-nationalism, cynical and sobering humour are one helluva turn on.  Honest to God, by the end of the film I was rooting for their relationship to fail so he'd marry me.
What's not to like ?
With RadioStars, Romain Levy directs a disarmingly funny bunch of juvenile radio-buddies (headlined by the fast-talking Manu Payet and brooding Clovis Cornillac) who, after their radio show gets bumped off the top rated seat, jump on a bus to win back their audience and make their way  back to the top – and in the process (and in varyingly hilarious forms) lose and (sort of) find their ways in life and love. Uninhibited, whizzing with cheeky (if occasionally borderline) one-liners and grooving to the sounds of an infectious soundtrack, it's a joyride that's totally fun and totally forgettable. TRAILER
The Artist has undoubtedly served over the past few months as  France's cultural ambassador – promoting the vigour and crowd-pleasing cachet  of our country's film culture.  However, infused as it is with vintage hollywood glamour, it is,  arguably, the least french film to have come out of France over the course of the year and is hardly demonstrative of France's diverse and singular cinematic esthetics.
The  most promisingly authentic vision seems to belong to  rookie director Guillaume Brac, whose first two films seem to have gone unnoticed even domestically.  Both his short feature ("Le Naufragé") and medium feature ("Un Monde sans femmes") tell a slightly blistered, unromantic tale of awkward companionships between men and men, men and women, mothers and daughters, set against the desolate Picardie coast.
Reminiscent of Rozier's documentary fictions, and gorged with Rohmerian influences (particularly the "contes" cycle), Brac's two films (projected in sequence) feel somehow more natural than both 'anti-methodical' masters' films.  This is greatly due to the extraordinary  cast, especially the anything-but-a-leading-man, Vincent Macaigne, the anti-hero of our clumsty tale : the kindest and most winsome of losers.
In sum, we may have found with Brac not only a natural heir to Rohmer and to Rozier, but perhaps one with an even more affectionate sensibility towards his characters and a more intuitive sense of casting. TRAILER
The countdown is on !
Check the schedule of films.  The festival will be screening Pater and Angèle et Tony both of which have been nominated for Césars this year  in the categories "Best film" and "Best direction" (Pater) and "Best first film" and "Best breakthrough performance" (Angèle et Tony)
How to fit this film into my blog, a film the audience may not even register as French (a Franco/Iranian/Romanian writer Yasmina Reza, a Franco-Polish director Roman Polanski, and a quartet of actors : [Kate Winslet, Jodi Foster, John C. Reilly and Christoph Waltz] hailing from Britain, Austria and the U. S.) ? Dare I pay tribute to an undeniably visionary director, yet persona non grata to many ? And can I do so without incurring the wrath of an audience and without being cast as the man's defensor (which I am not) but admittedly, yes, as a fan of the artist ? Last year, I snuck in a review of Ghost Writer in conjunction with my chronicle of the Césars after they had awarded him the prize for Best direction, thus I felt (relievedly) vindicated in my admiration for Polanski's chilling, atmospheric artistry. This year, word is he is a guest host, chosen to award Kate Winslet with an honorary César and has been nominated for Best adapted screenplay.  So…
Carnage is perhaps Yasmina Reza's most unflinchingly brutal and arguably her most challenging play to pull off without losing emotional credibility : the tensions here escalate to near hysterical heights yet the mood remains strangely cool, hostile, and never turns grotesque.  This is also perhaps one of the very rare cases where film direction suits the drama better than a stage direction could. Two words explain this : close-ups. The ever-shifting moods, modes of behaviour and expression (barely perceptible facial twitches, double takes, side glances…) would be lost to an audience in a dark theatre, but here are given their required screen time : for the play simply unravels one after another the varying portraits of our "civilized" selves. And it is tantalizing to watch. The cast is thrilling. But Jody Foster, a rare screen presence nowadays, particularly so : charming, unpredictable and devastating. Her spartan beauty, incisive eyes and lined features steal much of the camera's attention and act in fact as landscape to the ensuing Carnage.
The film is a small, unnerving masterpiece that will have you laughing nervously and then rip you apart. TRAILER.
Quite frankly I wasn't expecting to like this film. The reviews were generally unenthralled, a few occasionally applauded, somewhat condescendingly, the film's "heartfelt humanity" : which in cinephilic speak translates as a (shudder!) popular, well-meaning but otherwise forgettable effort.
Still, perhaps because of my fondness for the sport, my irrepressible crush on Gérard Lanvin, or because whenever Olivier Marchal helms a project, I'm intrigued…. I gave the film a shot.
Yes, it is certainly unambitious, unpretentious, and anything but a sexy sell (Karina Lombard as the romantic interest is a negligeable plot point) :  it's a guy's guy film about rugby that breaks no ground but stays rooted within the director's (Philippe Guillard, veteran French rugby star) field of expertise and comfort zone.
And yes, I was actually won over by these spirited, if ill-adjusted characters, and through them bound to the group of buddies who came together to pull off a story dear to their hearts. It all felt like something of an improvised project: a cast of ex-rugby recruits, unscripted scenes, slightly sloppy editing, mishandled romantic narrative… in short, a totally winsome, fresh and fun flight away from high brow cinéma d'auteur.
"Intouchables".  I thoroughly enjoyed it.
There I said it.
Because now, an enthusiastic critical reception of this film has become problematic, ever since Variety's scathing accusations of apparently blatant, overwhelming racism, while still, of course, summoning Harvey Weinstein to remake it, after considerable edulcoration and rewriting. Wholesaledly dismissive, not a single comment of Variety's review perceptively pertains to the film's direction, acting or style, simply to the Uncle Tom's Cabin attitude the film supposedly revives and thus  the film is entirely read through that lens.
Impossible therefore not to devote this blog to Variety's reaction before getting to the film itself. Variety's knee jerk response screams of the kind of infuriating political correctness whose notion of mutual respect and understanding presupposes eradicating differences altogether, and of the self-righteous finger pointing without consideration of a different cultural reality than one's own. The film is not a satire, social, racial or otherwise; it is not prejudiced nor vicious. It is a comedy that, yes, exaggerates certain realities for the sake of comedy – that's how comedies function – but there are truths to both characters' backgrounds and behaviours beneath the layers of comedic effects. Honestly, the gap between the two men, Driss (Omar Sy delivers here a tender, natural and hilarious performance) and Philippe (François Cluzet, equally extraordinary… as usual), felt to me far more of a generational one than a social, physical or racial one. I am not sure I understand how the casting of Omar Sy, who is Senegalese rather than Algerian, is "telling" of anything, as Variety implies, but regardless, what matter here are not Driss' ethnic origins but rather his youth, his energy, his imposing presence and powerful force of life that aren't going anywhere and demand of Philippe to be reckoned with. Driss' larger than life, in-your-face differences from Philippe, his vitality, physicality and his defiance are what's needed for Philippe to emotionally come back to life. Driss understands this, and perhaps even deliberately decides to overplay the role he holds in Philippe's life, as a result. Pegging this as racism, is missing the point of the film entirely. When Driss mocks contemporary art (which Les Inconnus and Yazmina Reza had done previously without exposing themselves to such disproportionate hostilities after "taking hoary potshots at high culture") and conspires with Philippe to sell his own painting to a pompous collector, as well as when he mocks the (justifiably) ludicrous tree outfitted opera singer, or the teen-idol hairdo of the dandy boyfriend, it isn't candour on his part that is the butt of the joke but the false pretentions of the upper-middle class that doesn't see how silly it has become in its forms of entertainment.
I'm assuming that the directors Olivier Nakache and Eric Toledano hardly intended to create a racial polemic nor polarize either side, quite the opposite. Since, however, it appears Variety's reviewer privileges racial issues over any other in the judgment of this film's values, let's mention that Olivier Nakache is a Sephardic Jew who began his career working with and being infused by the spirit of France's comedic dream team [for a large part North African in fact : Gad Elmaleh, Jamel Debbouze, Atmen Kélif, and Omar Sy among others] as well as directing short features primarily concerned with social issues (Le jour et la nuit, Les petits souliers). If anything, the two directors might suffer from a care bear complex. Accusing them of racism is outlandish. They seemed to have been moved by a feel-good story which they chose to tell in a comedic fashion and employed the rhetorical tools that apply to the genre. And guess what ? It worked. People cried and people laughed and everyone generally felt pretty good.
It seems impossible to tune in to any French radio station without capturing and inevitably giving in to Ludovic Bource's charming score for Michel Hazanavicius latest movie The Artist.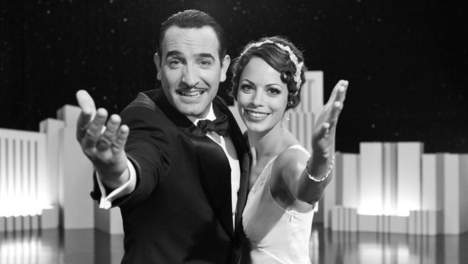 This delightful exercise in style is above all a skillfull hommage payed to the silent movies of the twenties. But beyond that, the film carefully reflects on the nature of this 7th art, letting us rediscover the magic of its beginnings and the wonder of powerful, purely visual storytelling. Also, there is something terribly refreshing about the success of a film that stands against everything the studio system has become since, and that appears to have revealed a nostalgic yearning in its enthused audience.
The plot is a classic one, or has become classic overtime. It chronicles the beguiling story of two movie actors whose hearts and careers cross tragically. Jean Dujardin, a mezmerizing composite of Valentino and Fred Astair, plays an older, silent movie star who haplessly chooses to dismiss a career in talkies and fades into oblivion while a young dancer (the delightful Bérénice Bejo) finds unprecedented success as the new "it" girl in the world of sound.
The first half is bewitching. Through some thrilling leg action, and a series of suggestive takes in a movie-within-the-movie, the film shows with economy and intensity George Valentin and Peppy Miller's budding love (Peppy's playful and tender caress of Valentin's tailcoat is likely to go down as one of the most expressively sensual scenes in romantic comedy). The second half sadly loses some of its rhythm and magic, as it slumps along with Valentin's sombre decline.
Still, the film is an enchantment, a throwback to the splendour, heroics and emotional candour of the time, and one that will leave you a little spellbound, a little sentimental, and wistfully humming its music for some time after…
Julie Delpy has little left to prove : an accomplished actress, screenwriter, director, producer, singer… With four directorial features under her belt ("Two days in New York" following "Paris" is rumouredly already a wrap), she seems to have signed here a pure pleasure project.
Skylab is a sweet, wistful (autobiographical?) evocation of a family gathering on the occasion of the matriarch's (Bernadette Lafont) 67th birthday in 1979. This joyful company's mood and movements follow Britanny's climactic temperament as arguments escalate and deescalate between sunny breaks with the kind of harmless intensity that results from the mix of affection and exasperation that only a family can withstand. The gentle, aging lunatics, the political antics and sexual hilarities  perhaps hint, with a kind of winsome disinhibition, to the generation's  dispirited malaise : the realization of its victories vanishing, of its purpose lost, of its time gone. The generational worldweariness that would usher in the 80's is in fact embodied in the precocious, bespectacled pre-teen daughter (Lou Alvarez), whose bittersweet coming of age  brings some sobering reflection and responsibility to the casual frivolity of her parents' generation (Delpy and the wonderfully chameleonic Eric Elmosnino).